U.S. Army Vietnam Veteran 1970-1971
Crypto
Co. B, 523rd Signal Bn., USARPAC
i Corp: Chu Lai, Duc Pho, and some memorable LZs

Rigs I've had...
Keys I have used...
The Phonetic Alphabet from a picture I took inside a Minuteman II Intercontinental
Ballistic Missile Launch Control Center 30 feet underground, just east of Wall, South Dakota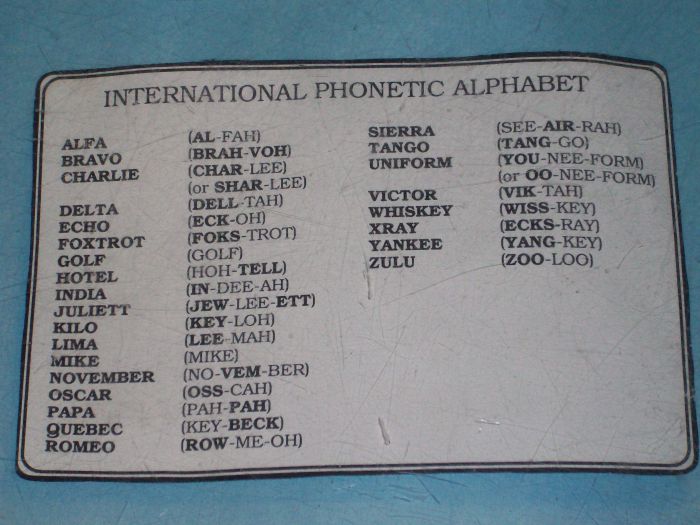 Nominations Solicited for Six ARRL Awards
The ARRL is inviting nominations for awards that recognizeeducational and technological pursuits in Amateur Radio. Nominations are alsoopen for the League's premier award to honor a young licensee. 
The Hiram Percy Maxim Award recognizes a radio amateur and ARRL member under age 21, whose accomplishments and contributions are of the most exemplary nature within the framework of Amateur Radio act...
Some 2014 ARRL 10 Meter Contest Certificates Mailed to the Wrong Recipients
A formatting error in a data file for the 2014 ARRL 10 Meter Contest has caused a problem in the distribution of certificates for that event.
"We have heard from several certificate recipients recently that they were receiving certificates for other award winners," said ARRL Interim Contest Manager Dan Henderson, N1ND. "After checking, we determined that some address data retrieved from submitte...
Intrepid-DX Group Seeks Nominations for "Intrepid Spirit" Award
The Intrepid-DX Group is seeking nominations its annual Intrepid Spirit Award, presented to the individual or group best displaying "Intrepid Spirit" over the past year.
"An Intrepid Spirit is bold, courageous, dedicated, innovative, fearless, generous, resolute and visionary in their approach to Amateur Radio," the announcement explains.
"We are seeking to make this award to the group or indiv...
Amateur Radio Provides Communication for Oklahoma Veterans Day Parade
Midwest City, Oklahoma's fourth annual Veterans Day Parade for 2015 was a success, due in part to the communication support that Mid-Del Amateur Radio Club (MDARC) volunteers provided. Amateur Radio met communication needs at multiple staging areas, along the parade route, at the incident command post, and for the reviewing stand. Working closely with the City of Midwest City Emergency Manageme...
UK Antenna Columnist and Author Peter Dodd, G3LDO, SK
Antenna columnist and author Peter Dodd, G3LDO, of East Preston, Littlehampton, England, died on November 17. He was 83. Dodd was well known for his antenna expertise and was a long-time contributor to the Radio Society of Great Britain's journal, RadCom, for which he edited the "Antennas" column. He also wrote several articles for QST and QEX. In addition he was the author of several books on ...
Martti Laine, OH2BH, Article on Working DX Pileups Now Available
An article by legendary DXer and DXpeditioner Martti Laine, OH2BH, on how to work DXpedition pileups now is available. The Northern California DX Foundation (NCDXF) has published the article, "The DX Chase: It Takes Two to Tango," in a special edition of the NCDXF Newsletter. The article was written in cooperation with the DX University founded by Wayne Mills, N7NG, and the "original" edition a...
ARRL Members in Santa Barbara Elect New Section Manager
ARRL members in the Santa Barbara Section have elected a new Section Manager in the only contested election in the fall election cycle. Jim Fortney, K6IYK, of Camarillo, California, received 218 votes, and incumbent Section Manager Robert Griffin, K6YR, received 175 votes. The ballots were counted on November 23 at ARRL Headquarters. Fortney's 2 year term of office begins on January 1, 2016.
For...
DX Engineering Acquires InLogis, Exclusive Rights to Make and Market Active Magnetic Loop Antenna
DX Engineering of Tallmadge, Ohio, has acquired the assets of InLogis and the exclusive right to manufacture and sell the Inlogis (formally Pixel) Active Magnetic Loop Antenna, model RF-PRO-1B. All manufacturing operations and equipment for the RF-PRO-1B have been moved from Golden, Colorado, to Tallmadge, Ohio.
DX Engineering says it will serve all existing RF-PRO-1B customers with replacement ...
Revamped FCC Website Expected to Debut on December 10
The FCC has announced that its large-scale website redesign will be completed by December 10. The switch to the new site is set to begin on December 10 at 0100 UTC and will be completed about 4 hours later.
"While the transition to the revamped site is expected to be completed almost instantaneously, there will be an ongoing process following this transition that will continue to involve user f...
Amateur Radio Parity Act Senate Sponsor Praises Bill's Committee Passage
Sen Roger Wicker (R-MS), who is the sponsor of the Amateur Radio Parity Act (S. 1685) in the US Senate, has praised the bill's approval by the Senate Committee on Commerce, Science, and Transportation. The measure cleared the committee on November 18. Wicker is a senior committee member and chairs the Subcommittee on Communications, Technology, and the Internet, to which the bill was referred. ...
Well-Known Contester Richard A. Strand, KL7RA, SK
Well-known contester and station builder Richard Strand, KL7RA, of Kenai, Alaska, died on November 20, after suffering a heart attack a couple of weeks ago. He was 69. A radio astronomer, Strand was an ARRL Life Member.
KL7RA was a regular in the ARRL November Sweepstakes, handing out the relatively rare Alaska Section multiplier, and he had hoped to recover in time for the 2015 ARRL November Sw...
DeorbitSail Satellite Unsuccessful in Deploying Sail
Following its July 10, 2015, launch, the DeorbitSail satellite has achieved some, but not all, of its mission objectives, including contact with the satellite, solar panel deployment, and taking pictures of Earth. The satellite, a University of Surrey research project, carries a 1200 bps BPSK beacon transmitting on 145.975 MHz. DeorbitSail is a 3U CubeSat with a deployable sail to demonstrate r...
FCC License and Examination File Processing System Getting Back on Track
Something to be thankful for: The FCC's Universal Licensing System (ULS) electronic batch filing (EBF) system, which has had problems processing VEC license and examination session files since Friday, November 13, is expected to be caught up this week. Granting of applications was delayed as a result of a computer system snafu.
"The backlog of files started processing and generating responses ye...
ARRL Headquarters Will Be Closed on November 26-27
ARRL Headquarters will be closed for the Thanksgiving holiday on Thursday and Friday, November 26-27. The ARRL Letter will not publish on Thanksgiving Day, Thursday, November 26, and there will be no edition of ARRL Audio News on Friday, November 27. In addition there will be no W1AW bulletins or code practice on those days.
We wish all our members a safe and enjoyable holiday!
ARRL Northwestern Division Leadership Elected to New Terms
ARRL Northwestern Division Director Jim Pace, K7CEX, and Vice Director Bonnie Altus, AB7ZQ, overcame challengers for their respective positions in the 2016-2018 election cycle. Ballots counted November 20 at ARRL Headquarters showed that Pace defeated challenger William Balzarini, KL7BB, 2190 to 654 votes, while Altus outpolled challenger Delvin Bunton, N7QMT, 2061 to 776 votes. Pace and Altus ...