U.S. Army Vietnam Veteran 1970-1971 MOS 31S30 Crypto
Rigs I've had...
Keys I use...
The Phonetic Alphabet from a picture I took inside a Minuteman II Intercontinental
Ballistic Missile Launch Control Center 30 feet underground, just east of Wall, South Dakota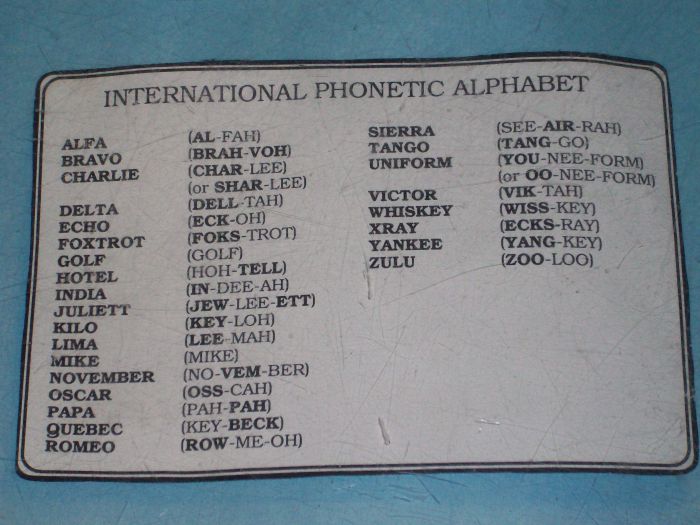 Philippine Peso Loses Shine
One of Asia's most popular currencies in recent years is losing its shine with the Philippine peso falling because of worries the country's trade flows will be strained after the devastating Typhoon Haiyan last month.
China Cinda Soars in Debut
Shares in China Cinda Asset Management rose as much as 34% in their Hong Kong trading debut, as investors jumped at the chance to invest in distressed assets in China.
In China, a Down Year for Investment Banks
Investment-banking revenue in China this year has slumped to its lowest level since 2009, even as overseas takeovers and bond sales by companies there rose to record levels.
Russian Ruble Gets a Symbol
Russia has chosen an official symbol for its national currency as part of an effort to encourage the use of the ruble in international trade and as a potential reserve currency.
RBNZ Stands Pat on Rates
The Reserve Bank of New Zealand said, however, the current level of stimulus is becoming unnecessary as inflationary pressures loom.
Nervous Afghans Buy Dollars
The afghani has been sliding for months, pushing up prices of imported staples like rice and fruit, in large part because of security concerns surrounding the departure of U.S. troops.
EU Approves Nouy as Bank Supervisor
European lawmakers approved Daniele Nouy as the EU's top banking supervisor, a new role charged with overseeing the biggest financial institutions in the currency bloc and leading a cleanup of its financial sector.
BOE Policy Questioned
The Bank of England's pledge to keep interest rates low until unemployment falls has probably given the U.K. economy only a small lift, one of the rate-setters said.
Iran Oil Won't Flood Market, Says IEA
The energy watchdog doesn't see the Islamic Republic flooding the market if international sanctions are lifted.
Fed Concerns Hit European Stocks
European stocks slipped to a fresh two-month low, dragged down by early losses on Wall Street, as investors continued to weigh concerns that the Federal Reserve could soon scale back its massive bond-buying program.
Asian Markets Fall
Stocks in Shanghai and Hong Kong led Asia's share markets lower on concern that Chinese banks's short-term profits will be squeezed; a stronger yen weighed on Japanese stocks.
Crude Oil Futures End Lower
U.S. oil futures declined after a government report said crude stockpiles posted their biggest weekly decline in nearly a year, while gasoline supplies climbed more than expected amid weak demand.
Debt-Laden Ukraine Faces Dilemma
In need of financing, Kiev mulls help from Russia or the International Monetary Fund, but finds neither option appetizing.
Mexico Stocks Rise; Peso Holds Steady
Mexican stocks edged higher, still buoyed by enthusiasm over an energy bill that seeks a broad opening of the state-run sector for private companies.
Japanese Pension Funds Move Slowly Into Real Estate
Some of Japan's pension funds are moving into the country's newly hot real-estate market in search of higher profits.
Europe Spars Over Rents
Tensions are mounting in Germany, France and the U.K. over new efforts to regulate rents.
copyright © 2013 Dow Jones & Company, Inc.